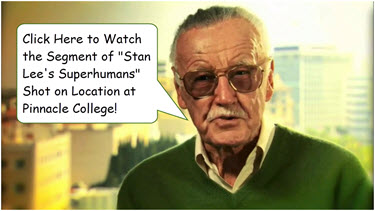 Education Through Experience
The famous creator of Spiderman and The Hulk has his own show on the History Channel called "Stan Lee's Superhumans." The premise of the show is to search the globe for everyday people that have special powers, skills and abilities. They have found people with extraordinary strength, the ability to conduct massive amounts of electrical current through the body, and humans with extreme mental capabilities – these are just a few of the superhumans examined in previous episodes.
The producers of the show contacted us (Pinnacle College) for the purpose of using our sonic isolation booth so that they could perform a test on a person that has the ability to recall dates in history, faster than a computer. We agreed that they could use our isolation booth and our studios for their location shoot. When the producers, director, host and crew showed up at the Alhambra Campus, they decided they were so in love with the "vibe" of our school they wanted to change their original idea. The producers and director decided that rather than just doing a test inside the isolated studio with the host. They would rather have our students and staff go head to head against him inside one of our classrooms. We agreed to this new concept and asked our students and staff for volunteers to be on our team against a superhuman computer. As you will see in the episode we had a strong team, but not nearly strong enough.